In recent age, the children giving birth to in this new age are always sharp, smart and very talented that you often smile whenever they do something really funny.
In this article, I would be writing about young cute 3-years-old girl whose name is Darasimi.
Darasimi is a beautiful young girl who continues to make Nigerians entertained with her contents on her Instagram page. Darasimi is an actress, a model, and a funny dancer whose dancing steps is really cute and very funny. The Instagram page handled by her mother already had 128k followers and she always post videos of her dancing Naira Marley, Zlatan, Mohbad, and Qdot and others song.
Apart from Dancing, Darasimi is a kid model who slay in any dresses she wears. She dresses so beautiful, and amazing that you would be wondering if she has pass 3 years of age. Her poses when she takes pictures are out of this world and all her pictures are always with swagger which even make many likes the young cute girl.
Apart from modelling, Darasimi is a young yoruba actor who has already debuted in a movie titled "The Genesis" alongside popular actress, Debbie Shokoya and Ibrahim Chatta acting as the kid.
She won an award which she share her happiness on instagram.
She wrote:
I Want To Say Thnk you to God Almighty For his love And Protection Over me and my family I am Grateful 🙏🙏🙏❤️
To all my beloved. Fans my dear mommies,daddies,uncles , aunties. For your. Unconditional love I say a big Thnk you to everyone that voted for me and that has be supporting me God bless you Ma /Sir
I dedicate this. Award to God Almighty And to all my fanmily that has being Supporting me I love you all. Thnk you so much
Thnk you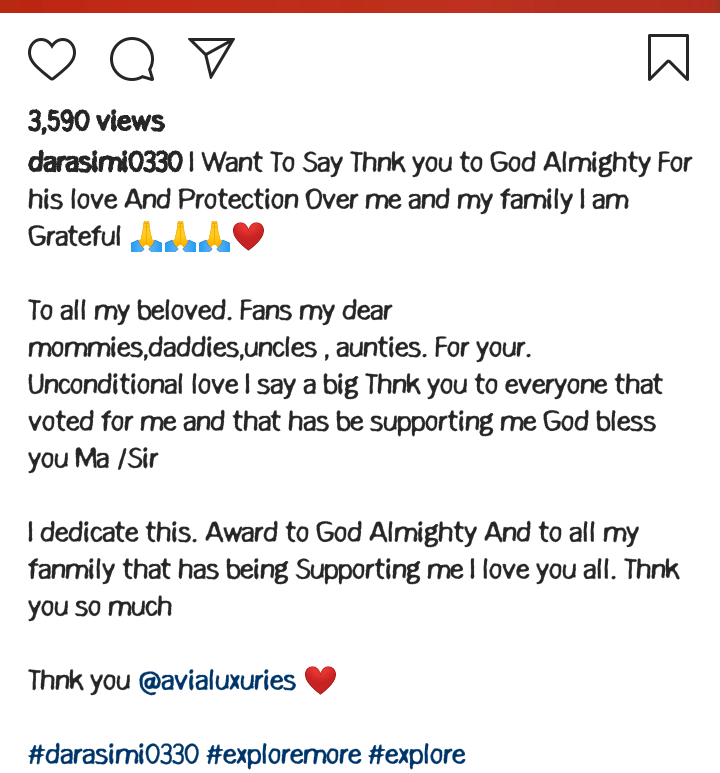 Watch video: