Sola Allyson-Obaniyi is a Nigerian soul, folk and gospel singer and also a prolific song writer. She came into limelight with the hit album "Eji Owuro" in 2003, which was the background play or a film or the same title.
Apart from been a gospel singer, she is also a voice coach, counsellor and a consultant. She is also recognized for her dazzling apparels too.
In recent years, she has worked with several Nigerian musicians such as; "Adekunle Gold", "Cobhams Asuquo", amongst others.
She was born in Ikorodu, Lagos in the early 1970s and she married to "TOYIN Obaniyi". The blissful union has three kids.
Sola Allyson who is in mood for Celebration took to her Instagram page to celebrate herself.
Sharing the post the artist wrote;
With GRATITUDE…
The unusual step, I took
In my own little world,
That little glimpse I caught ahead
And "crazyly" dared to follow
Without a trail to trace
Having to set the footprints myself
On a path that's strange as is unique
It was lonely and dark
With none to look up to or rest on
I tried to reduce my grit
So I can be guided by those ahead
But it was always truncated
Because the path I was made to walk
Needed to be trailed by me myself!
Àb'ọ́mọ yí ti ya wèèrè ni?
Is this girl mad?
If not, what's she saying?
They couldn't even comprehend
"She's weird"…
I cried rivers, season upon season
I walked miles, year into year
I navigated bends into bends
Still, ahead, I saw the little light, alive, undimming
On, yet, I moved following it
Many times I was tired
But before my forming in the womb
There was the spark of shining in my essence
So I couldn't give up
Seeing that it's light I see
Although shining differently
And then I freely chose to align
With The GIVER of lights!
I got adopted, cleansed, rerobed
Given access into the house of mercy
I became, #Child!
A Princess of The Almighty
The little light kept glowing o
Till it became a bright light
And it keeps getting brighter
As I go better and wiser
Showing me such miraculous wonders
Now, the little light shines
More than it would ordinarily have
Differently it shines
But evident it's from The Lighter of lights!
As I hear it told of my little light, stories of souls awakened abound!
As I get to know of my little light, recounts of minds transformed a-many!
This, my best life achievement!
Lives have been changed
Light is shining
Lighting the souls of many
Just because of my little light I dared to shine!
This, my highest accomplishments!
I see the wonders, oh I do,
And I'm GRATEFUL for these wonders
Which are wrought by The FATHER
Through my little light I dared to shine
The wonders shall yet increase
As I follow still
In my own simple way
The little light which became bright! Àmín.
You, my kind, choose Light, follow, with all your being, ALIGN, your space awaits, you're also in the plan of good from where I got my own good!
With GRATITUDE
Happy birthday to me.
😊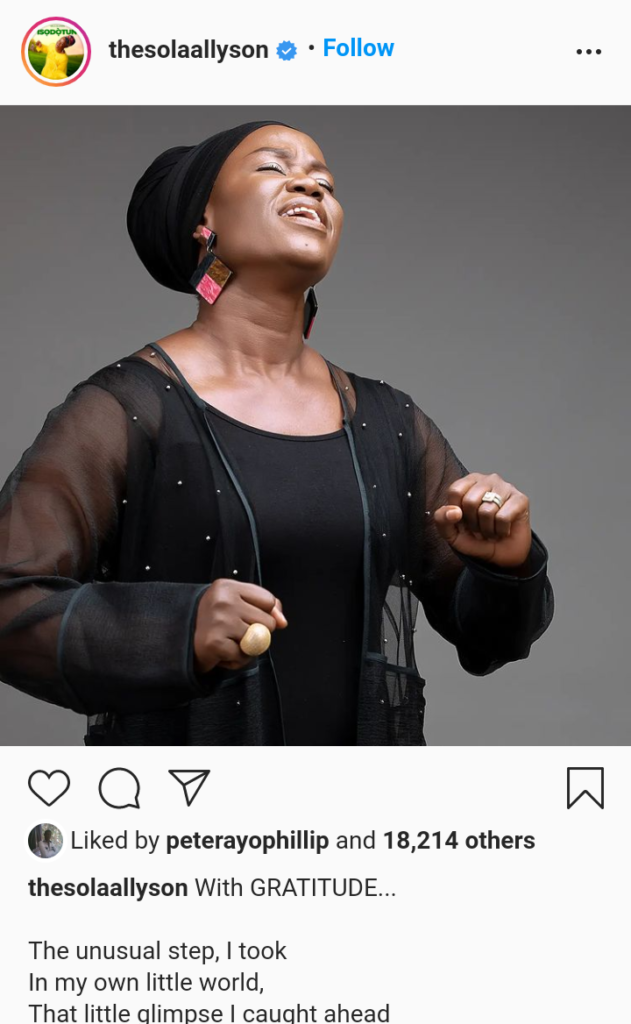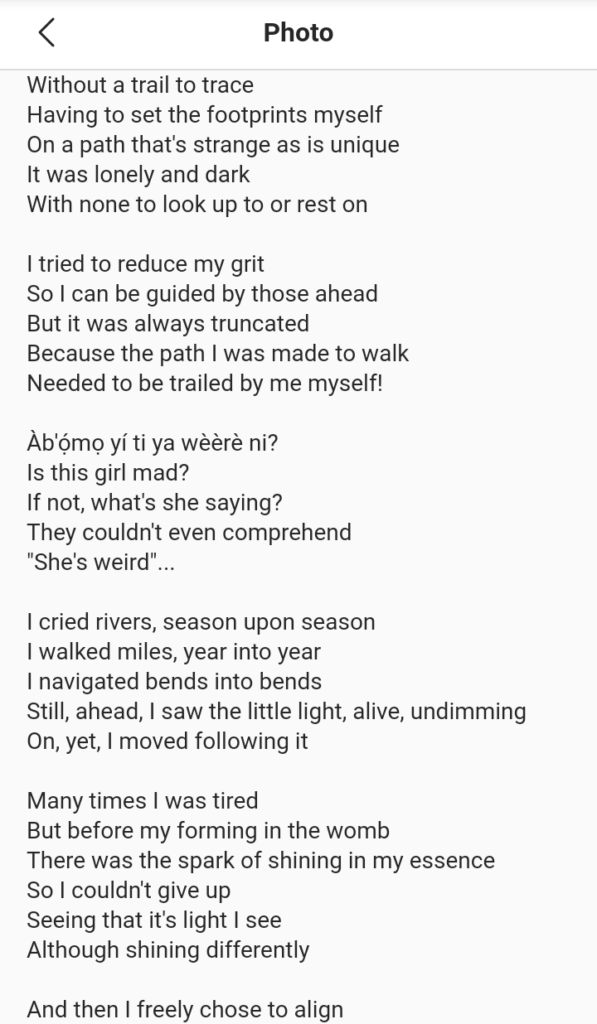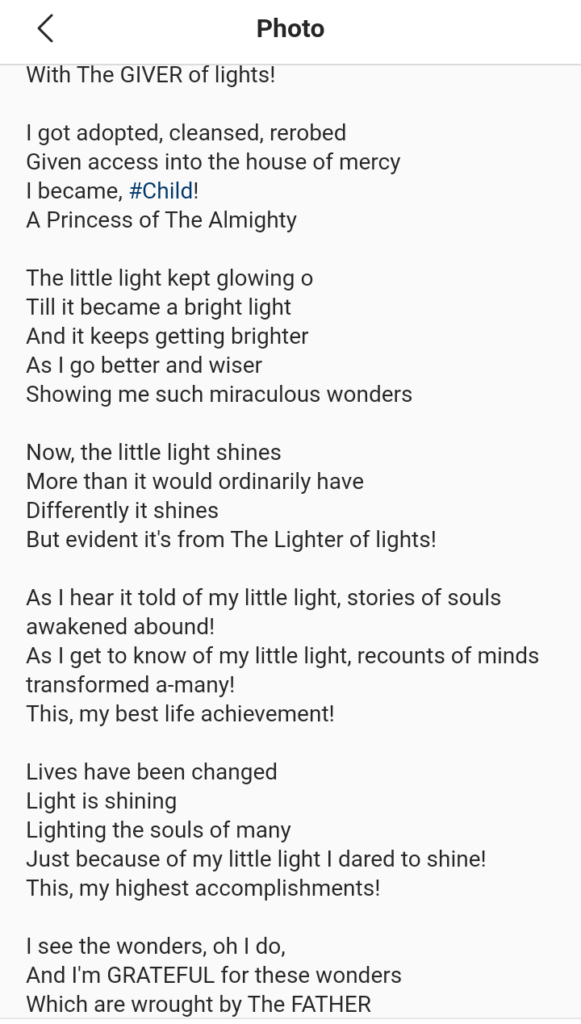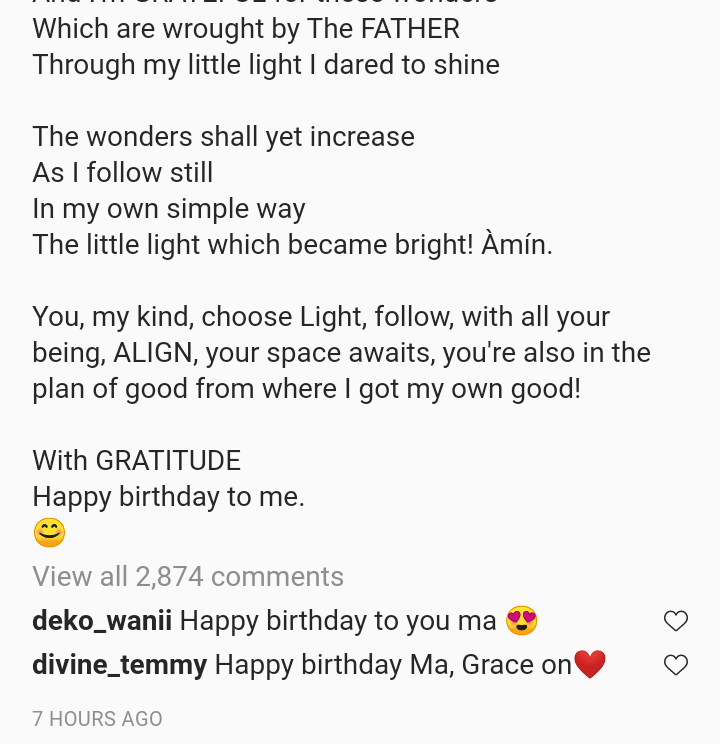 Her photos below;