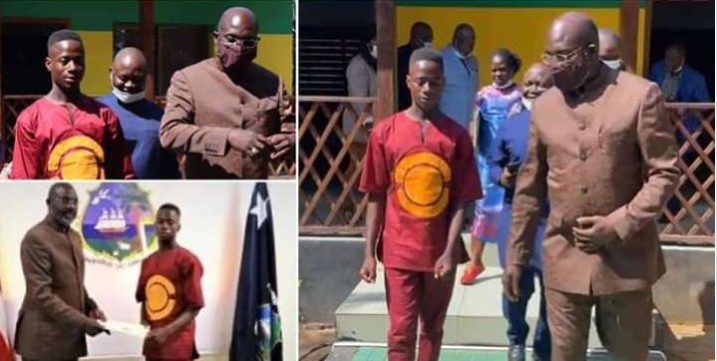 An 18-year-old school dropout has become a millionaire owing to his act of honesty that has now being rewarded handsomely The young adult named Emmanuel Tuloe had found $50,000 (N20,543,500) belonging to a businesswoman on the road and returned it His honest deed has caught the attention of the president who has offered him a juicy job, scholarship and N4 million
The fortunes of an 18-year-old lad Emmanuel Tuloe has turned around in rapid fashion thanks to his honest deed. The school dropout who makes a living as a bike rider had found $50,000 (N20,543,500) on th eroad and returned it.
The boy was rewarded handsomely Photo Credit: BBC.co.uk, The Executive Mansion Source: UGC He was said to have been showered with gifts by the owner of the huge sum who happened to be a businesswoman.
He has now bagged presidential rewards The story of his honesty went viral and got to the hearing of the President of Liberia George Weah who has now rewarded Emmanuel handsomely.
In addition, Emmanuel was offered scholarship up to master's level to study in any Liberian institution of his choosing, two motorcycles as well as a chance to work in the Presidential office.
Speaking in a meeting with the honest lad, the president also announced plans to bestow on Emmanuel one of Liberia's Highest Orders of Distinction while affirming that the scholarship will continue whether he remains in power or not.
"This scholarship is personal from me and my family, and will be valid whether or not I am President of Liberia."
Emmanuel said he was afraid at first when he found the money
Recalling the incident that happened the day he found the money, Emmanuel said he was afraid because it was plenty.