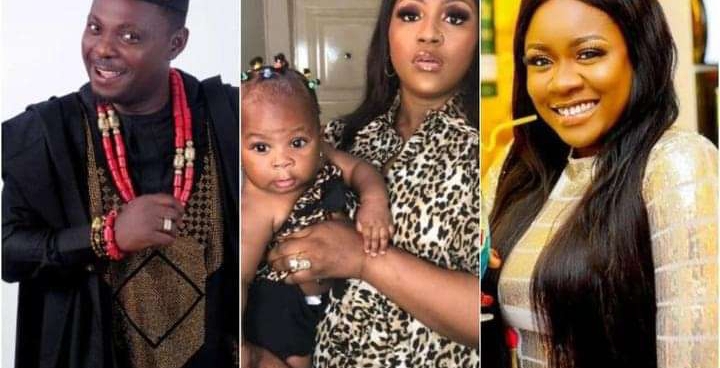 Nollywood actor Kunle Afod has been accused of sleeping with his colleague Mariam Muftaudeen the babymama, to Lagos State Chapter of National Union of Road Transport MC Oluomo.
Mariam Muftaudeen made this known in a series of rants on her Instagram page while attacking her newly married colleague Olayinka Solomon.
It was recalls Olayinka Solomon, who was allegedly one of MC Oluomo's side chick before her marriage, introduced Mariam to MC Oluomo for a one night stand, but things took a different turn as her friend fell pregnant for him.
This led to a fight between Olayinka Solomon and her friend Mariam, and she advised MC Oluomo to stop giving Maria money.
According to the report, MC Oluomo confided in Olayinka Solomon that if the pregnancy news gets to the media, it will ruin his political ambitions.
In the post on Instagram, Maria said Olayinka Solomon accused her of sleeping with Kunle Afod and one Olamilekan.
Maria dares Olayinka to prove where and when she slept with Kunle Afod, adding that Olayinka sleeps with other men amidst her new marriage.
The post as shared by Gistlovers reads: Hello tueh tueh, this matter wey Dey ground so Na yam pepper scatter scatter oo you know werin Yoruba people Dey call ija igboro. Na him be this.
Baby Mama and Newly married actress fights dirty over Mc Oluomo prick, y'all remember that our last gist about them been good friends and both knocking Mc oluomo for money, As prick matter enter friendship scatter.
Olayinka is now married but the fight no end for there because according to omo Vc, even one week after the marriage Yinka still go nack him sugar daddy, MC Oluomo, the Wx friends recently met at Kunle Afod party and nearly created a scene at the party because Yinka accused Omo Vc of dating Kunle Afod and Omo VC pikin no get papa, Na there the wahala start.
This part wey them mention Kunle Afod so, that him wife, Desola go fit break Bottle ontop person head o, Desola fit d*e ontop the matter o, meanwhile this Omo Vc pikin Na Mc Oluomo replica. I come in peace, igi ewedu oni wo pawa o, swipe to read the lengthy rant on WhatsApp