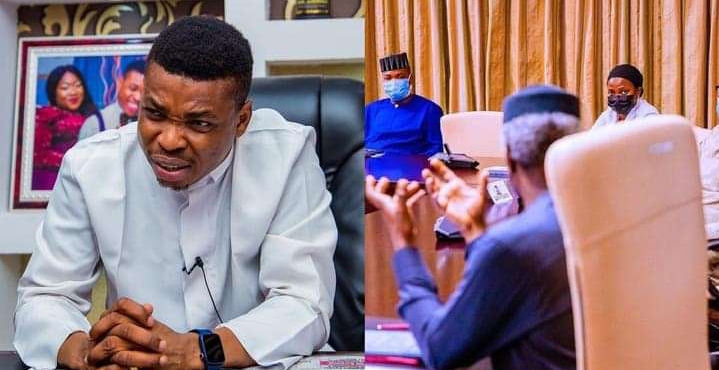 After being dragged for making a courtesy visit to Vice President, Prof Yemi Osinbajo, Nigerian comedian Ayo Ajewole, also known as Woli Agba, has reacted.
On Thursday, November 4, the 'prophet', along with other comedians such as Taooma and Josh2funny, visited the Presidential villa as part of the Nigeria Skits Industry Awards (NSIA).
Woli Agba shared images from the visit on his Instagram page after the visit, but the post was met with disapproval from his fans, who threatened to 'cancel' him.
Reacting to the heavy backlash, Woli Agba fired back at Nigerians and questioned their method of reasoning.
According to him, this experience has opened his eyes to one of the problems Nigeria is currently facing. He also insinuated that netizens have been reading 'lies' on social media.
He wrote:
"Na ordinary picture una see and you guys had all of these conclusions. Ask whoever cooked the story evidence of his or her presence at the meeting now? Which way Nigerians? Ask now? Why una just dey reason like programmed robot like this? I think for the first time, I am able to know one of our problems in this country. Not even related to any of the lies you guyz are reading. Don't be pushed common. Omo, I dey here dey thank God o."
See the post below: