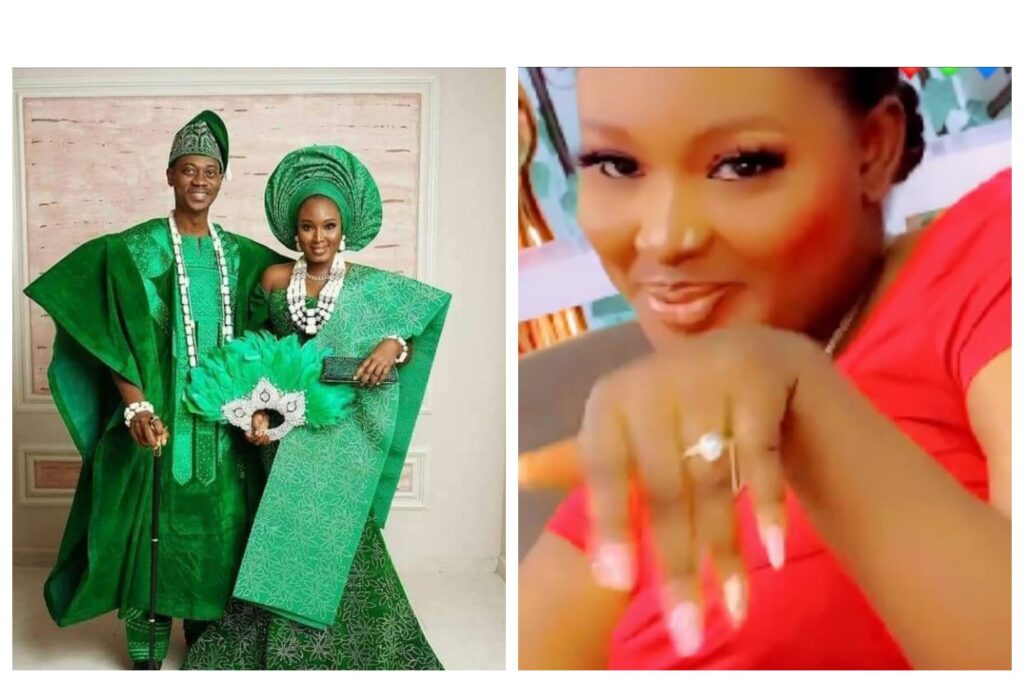 Some fans of Nollywood actors Adebimpe Oyebade and Lateef Adedimeji has stormed their Instagram page with several comments as they set to tie the knot in a few weeks.
News earlier reported that Instagram blogger, Gistlovers who shared the details of the wedding that would take place in Lagos on 22nd December, alleged that Bimpe Oyebade is pregnant.
Also, Bimpe Oyebade, in a video shared by her colleague Adewunmi Fatia is seen flaunting her engagement ring, insinuating that her relationship with her colleague Lateef Adedimeji is no longer a secrete.
The news generated several reactions from their fans as they stormed their page with congratulatory messaged while others frowned at how they had repeatedly denied the reports of their dating for a long time.
oderhohwomichael wrote: @mo_bimpe I wonder why adults would be dating and denying each other mtcheeew
ebudola_amoke wrote: @oderhohwomichael that's just it …. Why would he deny Lateef in the first place that he isn't his type of man…. Baba Atinuke/Brother Lateef na Sharp man you be ooo
queenkalejaiye wrote: @mo_bimpe yes,he worth to be called a daddy. May God bless your union. I'm super happy for you both
queenkalejaiye wrote: Congratulations ,I'm happy for you at last,we gonna parry hard
News recalls Bimpe Oyebade in an interview with BroadwayTV, saying she can not date her colleague Lateef Adedimeji because he is not her type of man.
Bimpe denied having a relationship with the popular actor. According to her, the fact that they have acted a lot of romantic scenes together is what is making fans believe they are in a relationship.
Debunking the rumours, the AMVCA Nominee said "I am not in a relationship with Lateef Adedimeji but we are friends. I won't deny the fact that we are friends, we are close friends. We are not in a relationship; we are both in different relationships.
"When you are too close to the opposite sex, it's a problem. People think you are dating. Lateef is only the one that is close to me, I am not the kind that makes a lot of friends when it comes to the industry".
When asked why she can not date Lateef, she said "The problem started with the fans, they call us 'Momma and Zaddy'. A lot of fans like us together; they want us to be together. He is a good man, I already see him as a family. I won't want to be with someone I see as a family. Nothing can ever happen between us because I cannot marry someone in the spotlight".
"I would say no to Lateef if he asks me out because he is my friend and I already see him as a brother. He is not my type".