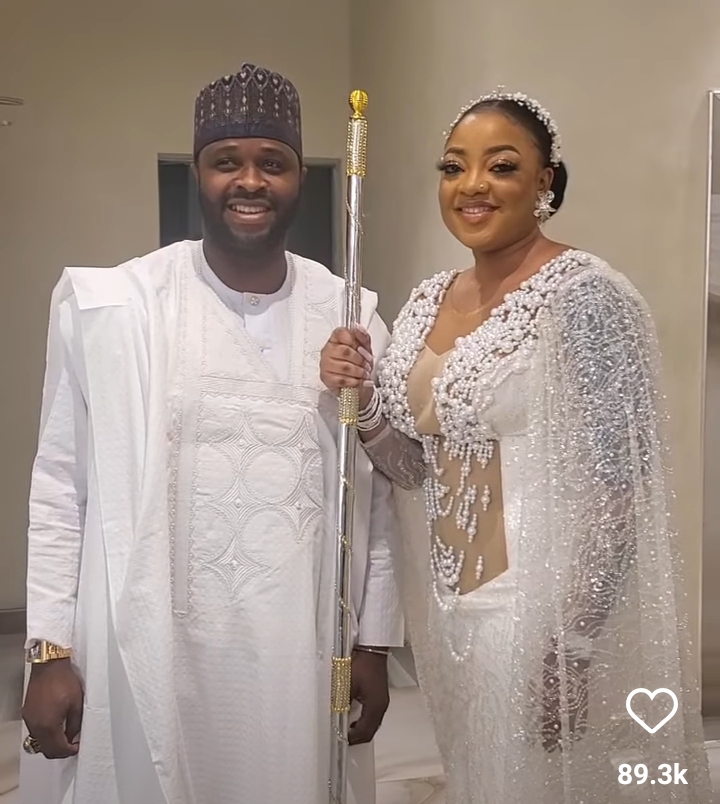 Actor Femi Adebayo is presently being queried by his fans over the new status of his relationship with colleague, Sotayo Sobola, who was recently accused of being bankrolled by three different men.
For sometime now the co actors have been addressing each other as bestie and it became even more evident after he turned up at her coronation party hours ago.
Sharing videos from the occasion, Femi Adebayo wrote:
"All for my bestie … Enjoy your day dear"
Also in his birthday message to her, Femi Adebayo wrote "It's my bestie's birthday today.
Happy birthday to the SARAUNIYA of Uke Kingdom, my ever supportive and wonderful bestie. May this new dawn favor you in many ways and may your days be filled with laughter and joy. God bless you Ore mi…"
And Sotayo Sobola responded saying "God bless you my bestie. I love you forever. Ejika ma the sole of ours shoes is gonna chop today"
The act has since parked reactions from his fans with many querying him for being best friends with another woman who is not his wife.
One Adeoti wrote "Using word of bestie dey give me headache.. married man, married woman and u are using scam word, bestie.. bestie bawo.."
One Sylvester wrote "That is how it always starts o, bestie then next time another story, sha be careful you are a married man"
One Olayiwola wrote "It is wrong to have someone else as your bestie other than your spouse abeg"
It was recalls Sotayo Sobola recently warned those who call her during odd hours.
In a post shared on her Instagram page, Tayo Sobola questioned why some people would call her number between 5:30 am -7:30 to exchange pleasantries with her.
Tayo Sobola, who seemed infuriated by the act, orders people guilty to stop adding that if anyone isn't her mother, father, husband, or it's not an emergency, they should not call her during odd hours.
According to the actress, even financial organisation does not open before 8 am, hence anyone who calls her at odd hours again will receive insults.
Actor cum politician Femi Adebayo has gotten more than he can chew